This post has taken several days to write. Drove home on Monday and Tuesday was spent reorganizing (laundry, etc. You know the drill)! Anyway, here we go!
Up and at 'em early Saturday morning for Outlandish Vancouver, day 2!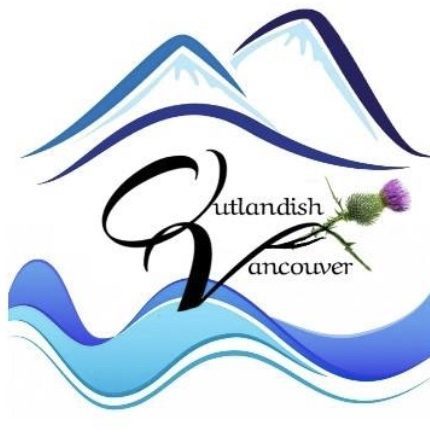 Gathering at Johnston Heights Elementary School, Outlandish Vancouver fans were greeted by man-in-kilt security! 😉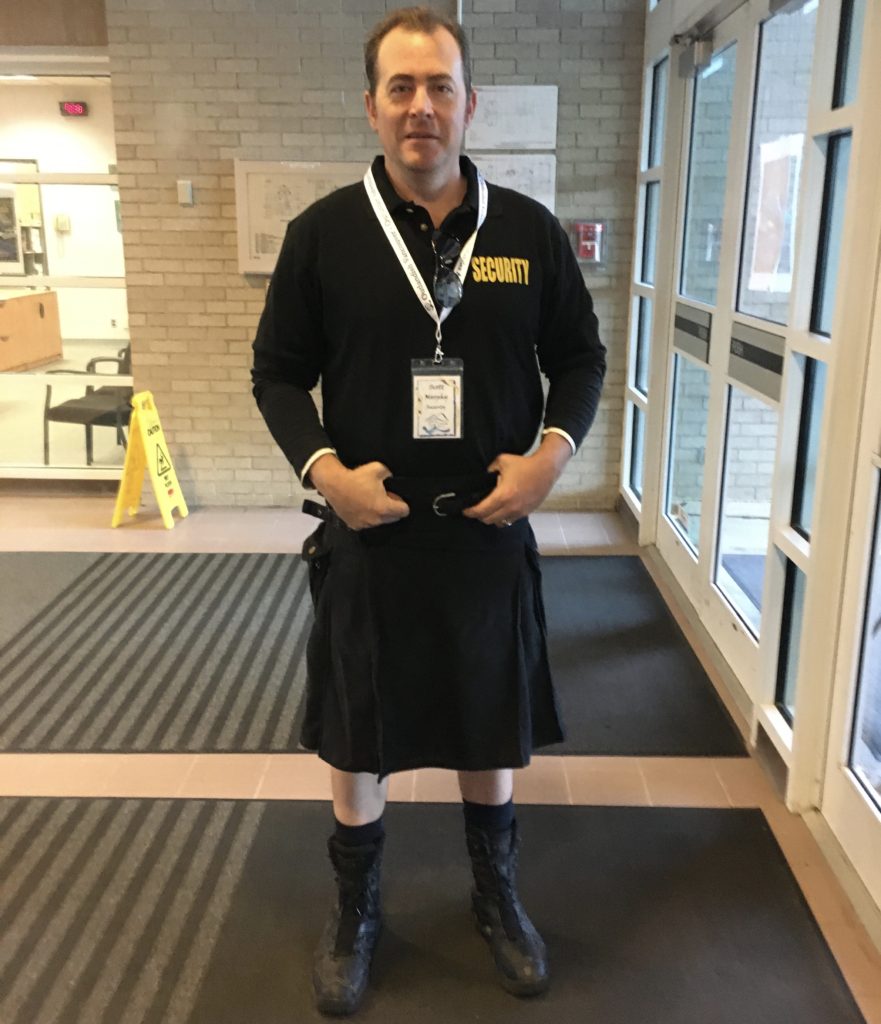 Inside the cafeteria, we were delighted to greet three cast members!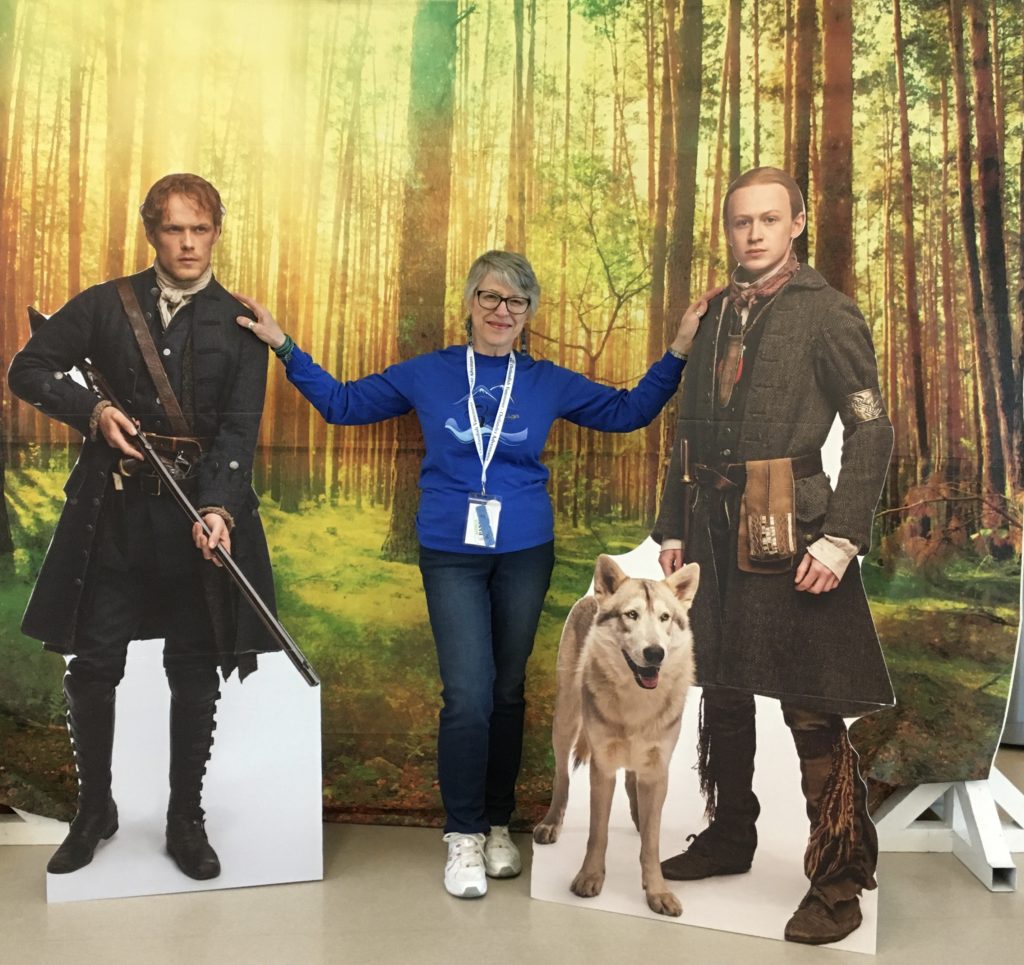 Who invited this villainous pirate?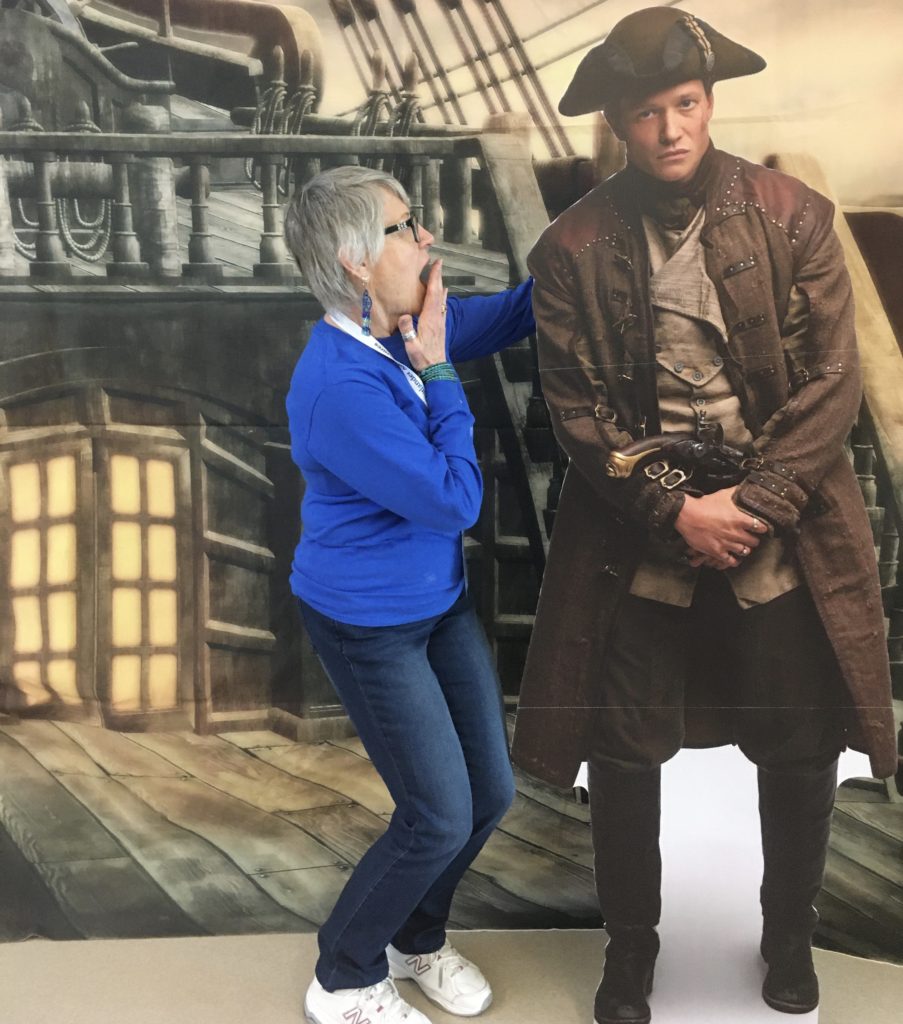 Time for a group photo – we are all wearing Outlandish Vancouver shirts.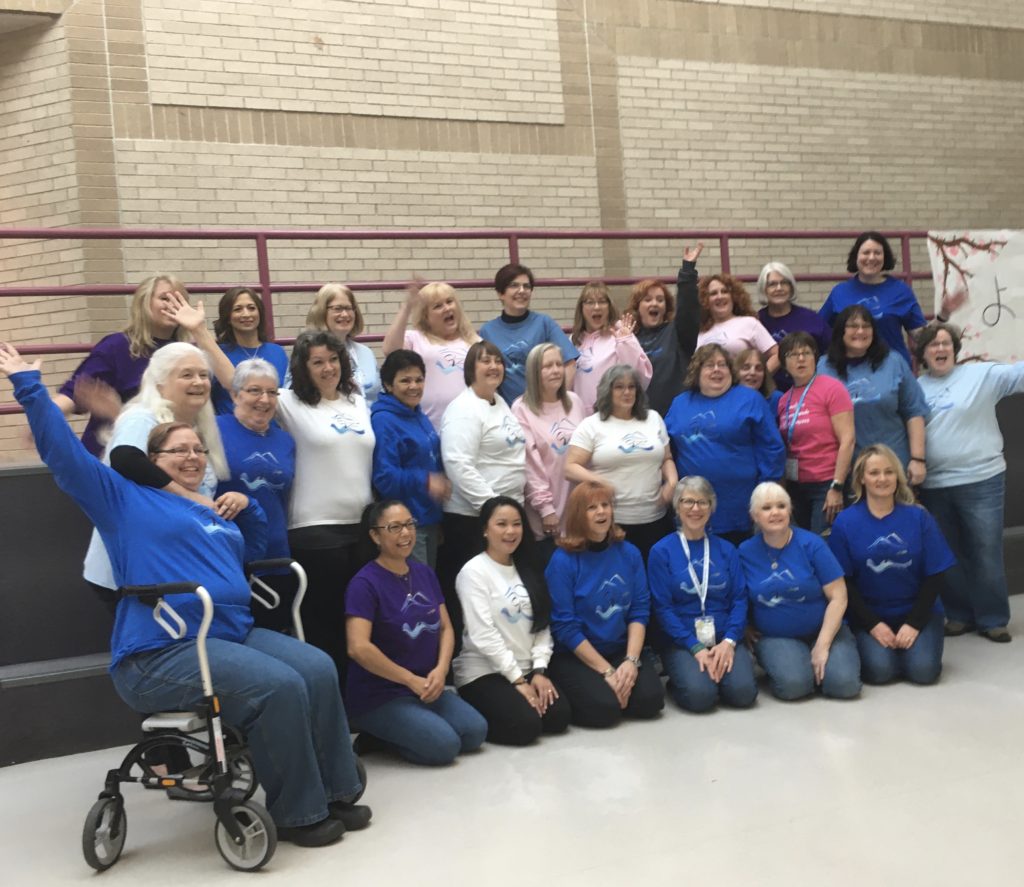 Next were photo opportunities with the cast. Courageous Cathie McQuistion of Cats and Kilts faces the dread Pie-rate Bonnet!
Ed holds aloft a cream pie; KiKi and John gesture: "No, man, don't throw it!"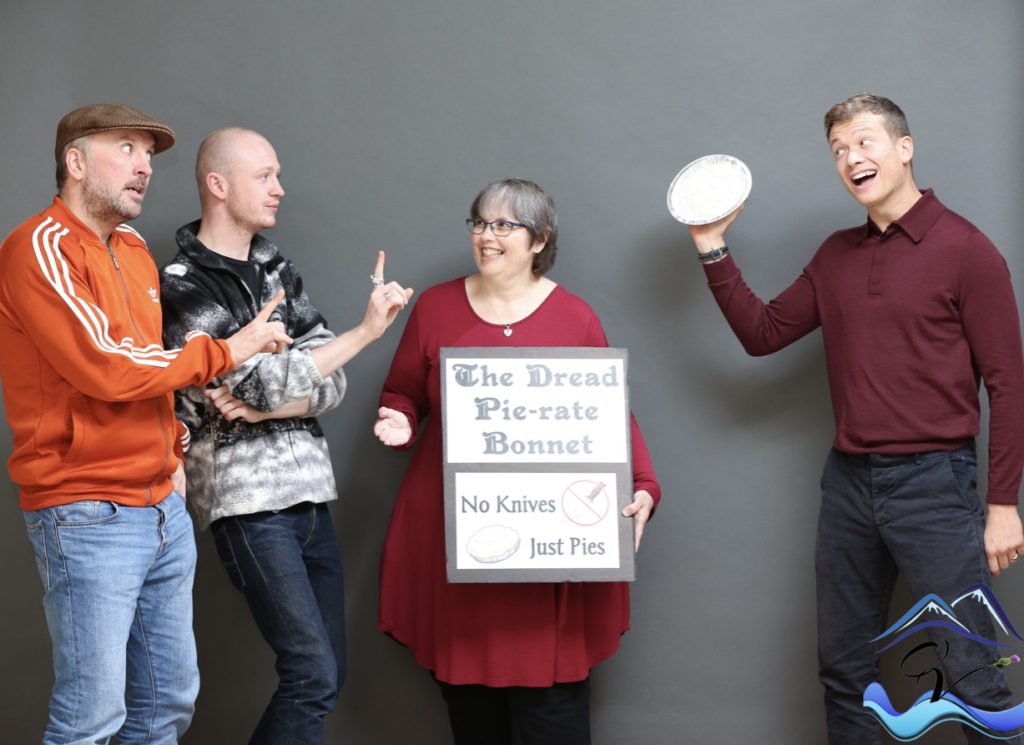 Oh, yeah, Ed throws it! Check out his proud pose!
Afterwards, Cathie said all three stars begged to throw the pie! 😁 IMO, Cathie has the most creative and clever photos of Outlander fandom. 👏🏻👏🏻👏🏻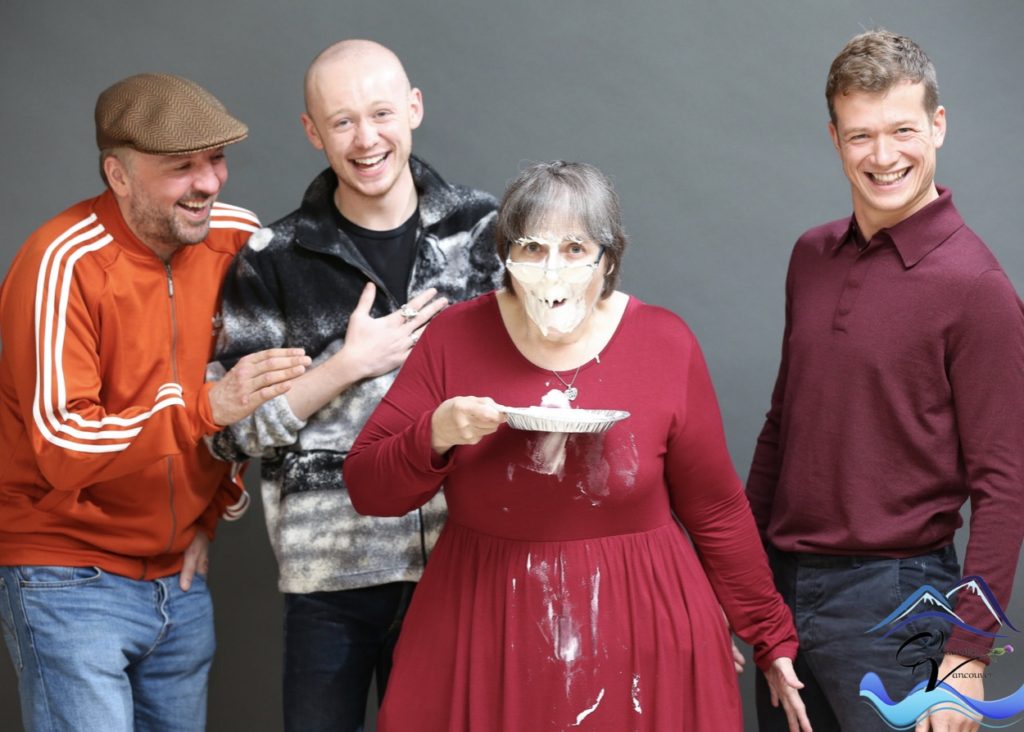 After the photos, it was time for a bit of lunch and then into the auditorium for the First Nations panel!
Trevor bravely went first.
Followed by Carmen, looking sleek and svelte! Love the boots, Ms. Moore!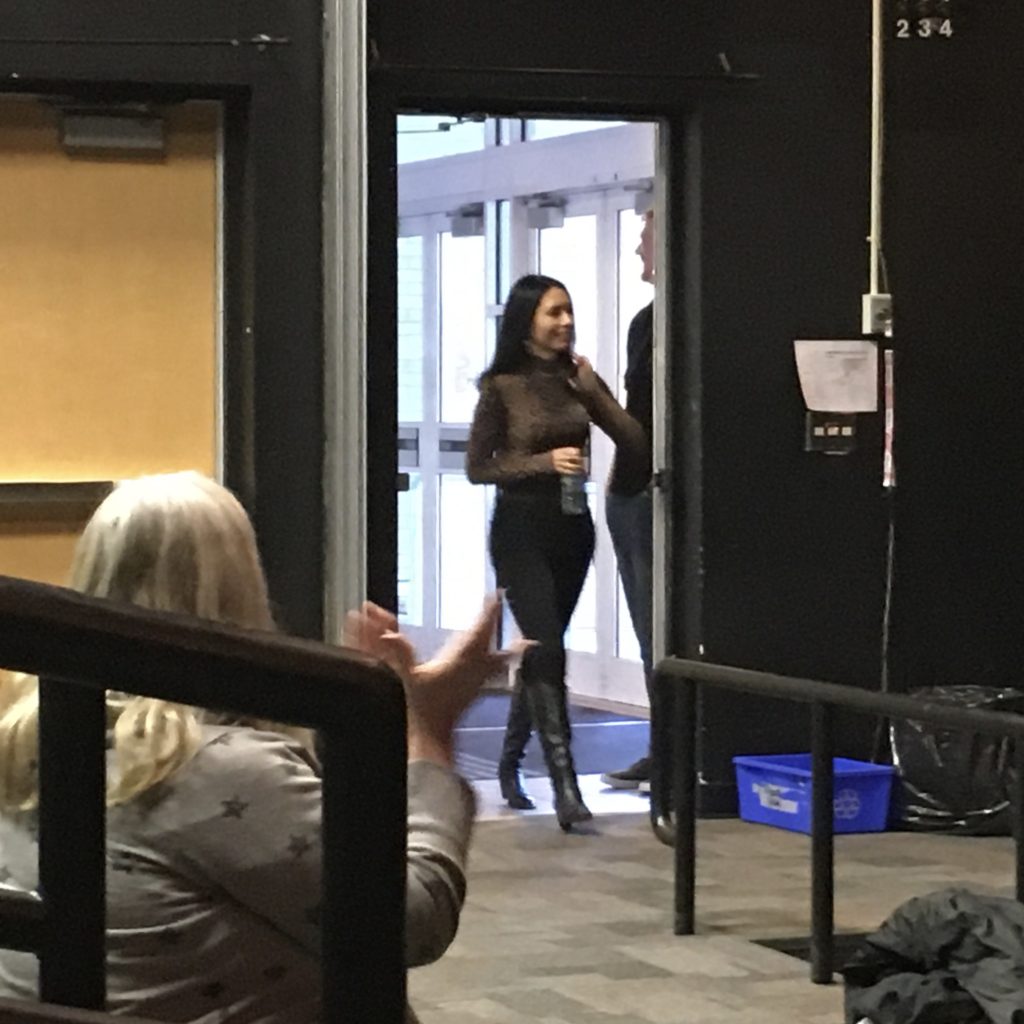 Last man standing, was Braeden.  Such a cute and lively guy!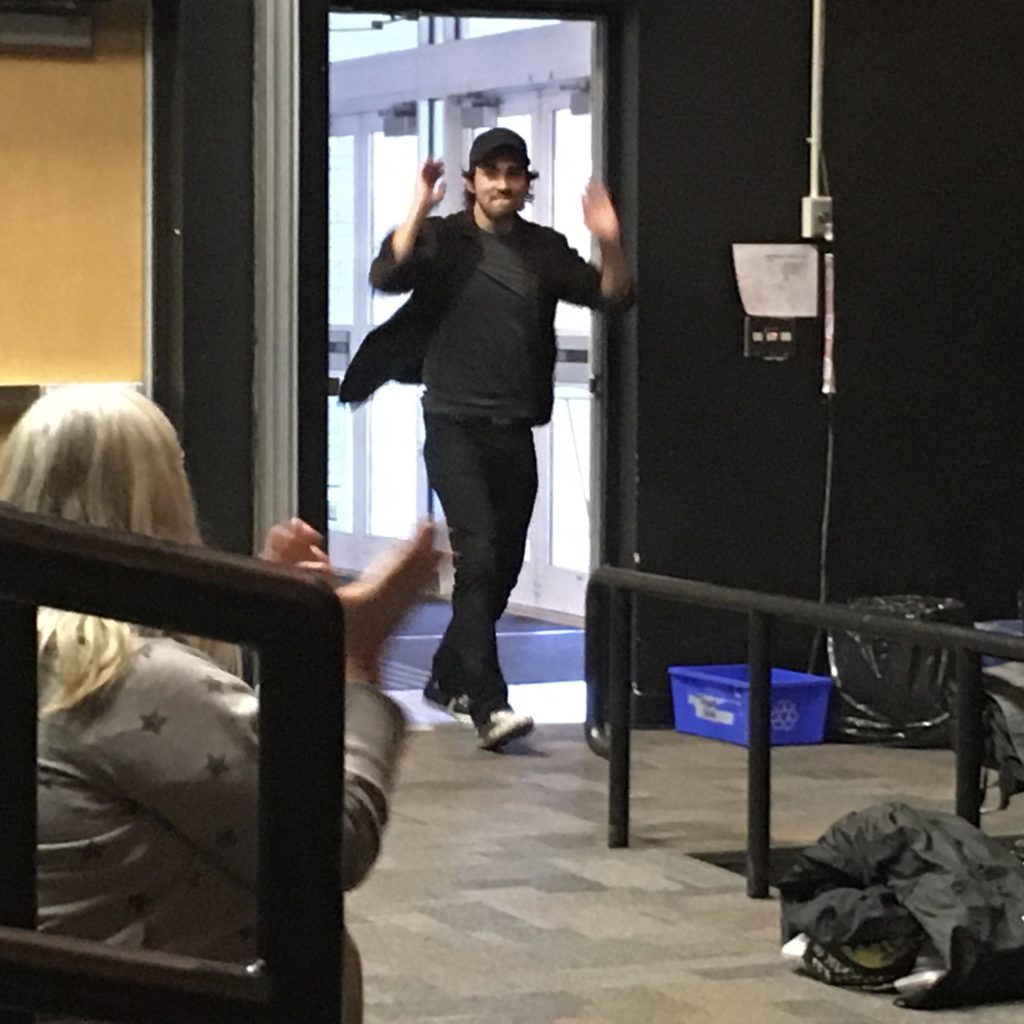 Before the panel, the school principal read a declaration honoring all First Nations people who initially inhabited the land.  This short statement is read before all assemblies at Johnston Heights.  I ❤️ this tradition!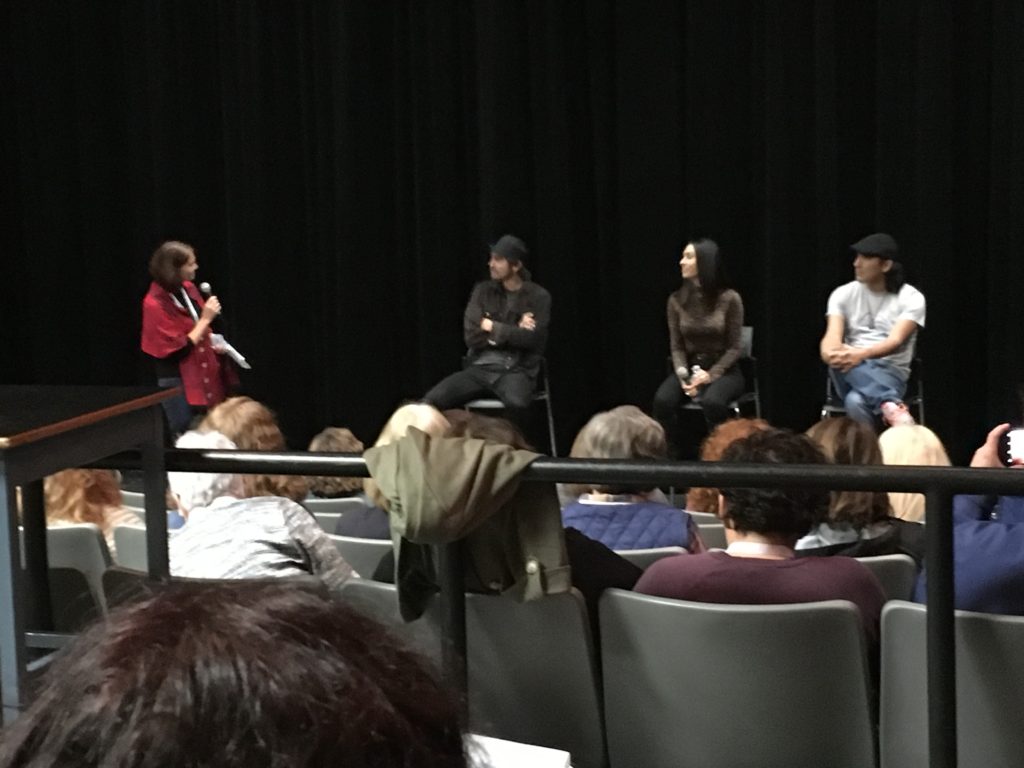 The panel answered and responded to attendee questions and comments.
Although photos were allowed, no videography, so the following is a summary of this delightful experience!
Q: What are your passions other than acting?
Trevor – Mixed martial arts (black belt, trainer, gym owner)
Carmen – Karaoke, Netflix! 😁
Braeden – Motorcycles. Vroom! Vroom!
Q: Braeden, did you know how to ride a horse before filming?
No. He watched YouTube videos to learn riding and some guys on set told him how to mount a horse!
Q: How did you prepare for your role?
Carmen:  A friend translated her lines so she was able to audition in Mohawk! (smart lass 🤓)
Trevor:  Researched Mohawk war dance on YouTube.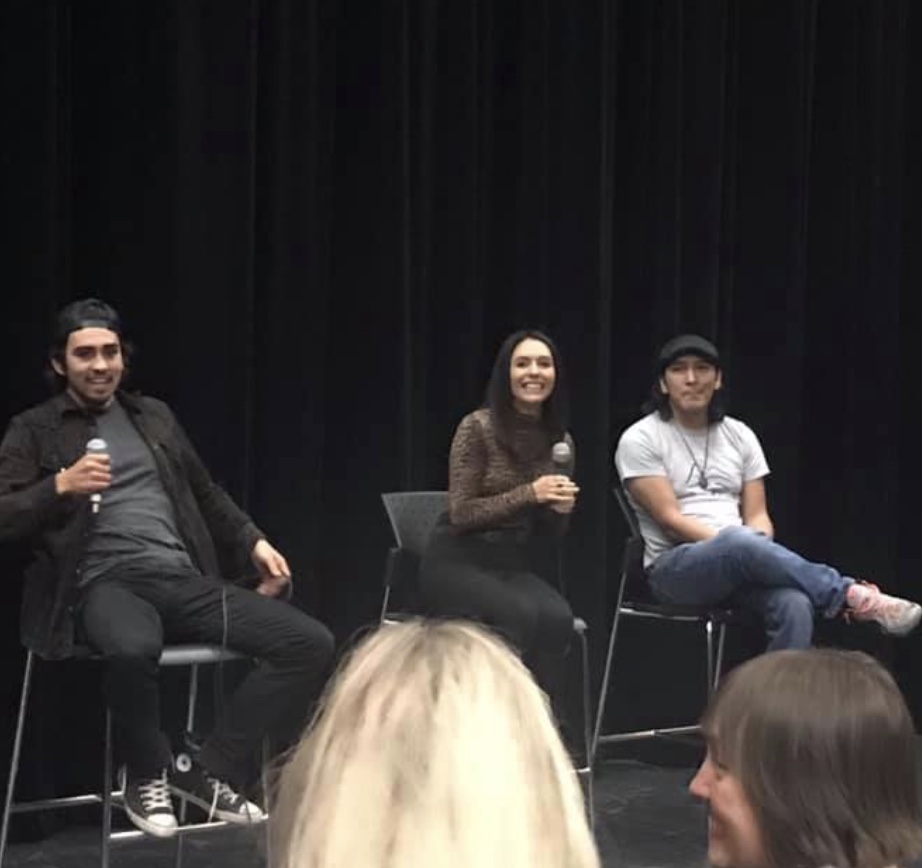 Q: How did the authenticity of the costumes and set influence you?
Trevor: Very impressed with costumes, set, and especially, by the dialect coach.
Carmen and Braeden:  Agree!
Q: Do you speak your own indigenous language?
Carmen: She grew up in Vancouver and doesn't speak any First Nation languages.
Braeden: He watched the film, Windtalkers! (Carmen reminded him that Windtalkers spoke Navajo! 😜)
Q: Was there comradery on set?
Carmen: All natives bond instantly. Lots of love and laughter. One evening, the bonding grew into a pillow fight and spilled into George Square, Glasgow! 😂
Next, someone from behind me called out, " Who was your favorite actor on set?" It was John Bell in the nosebleed section with KiKi and Ed. 😉 To a person, the panel answered, "Rik!" Apparently, Rik constantly pulled pranks on anyone and everyone.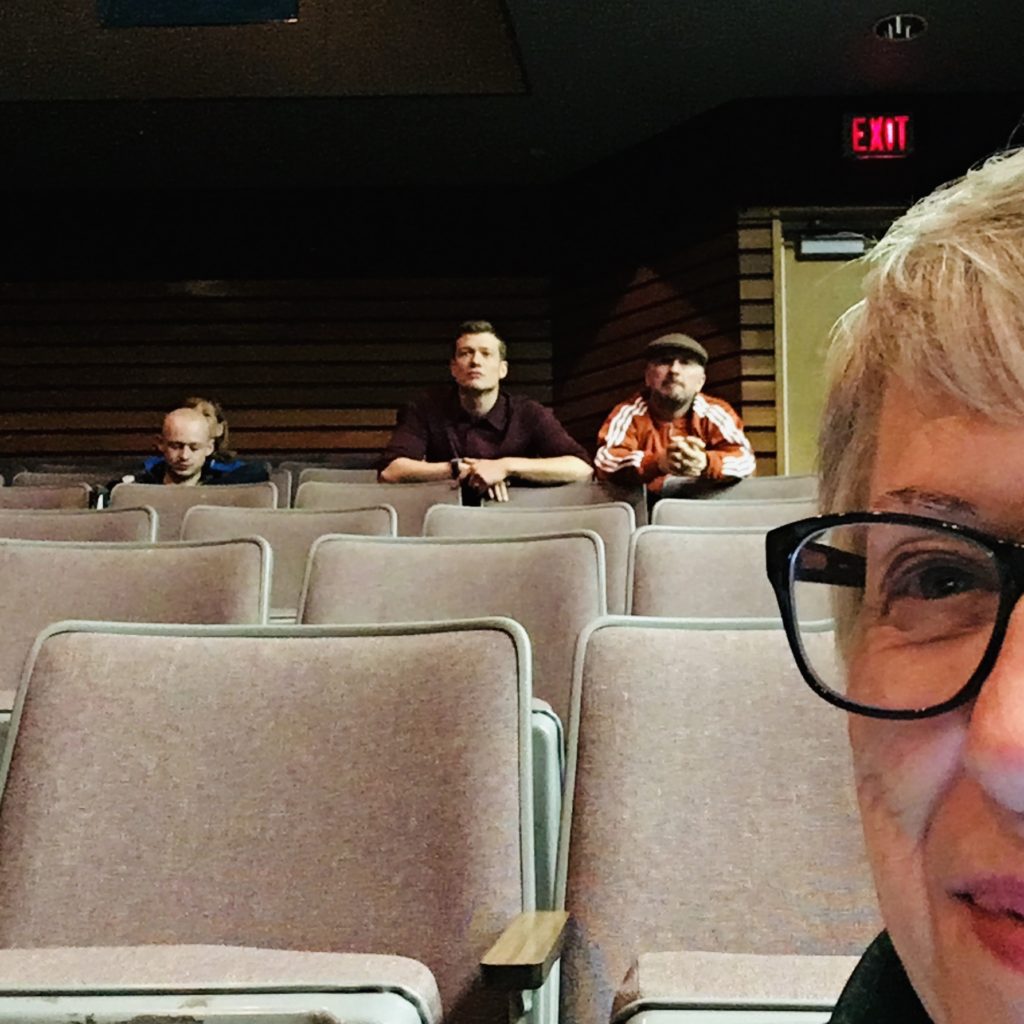 BTW, John can jump! Easy to see why he did most of the gauntlet scene, himself!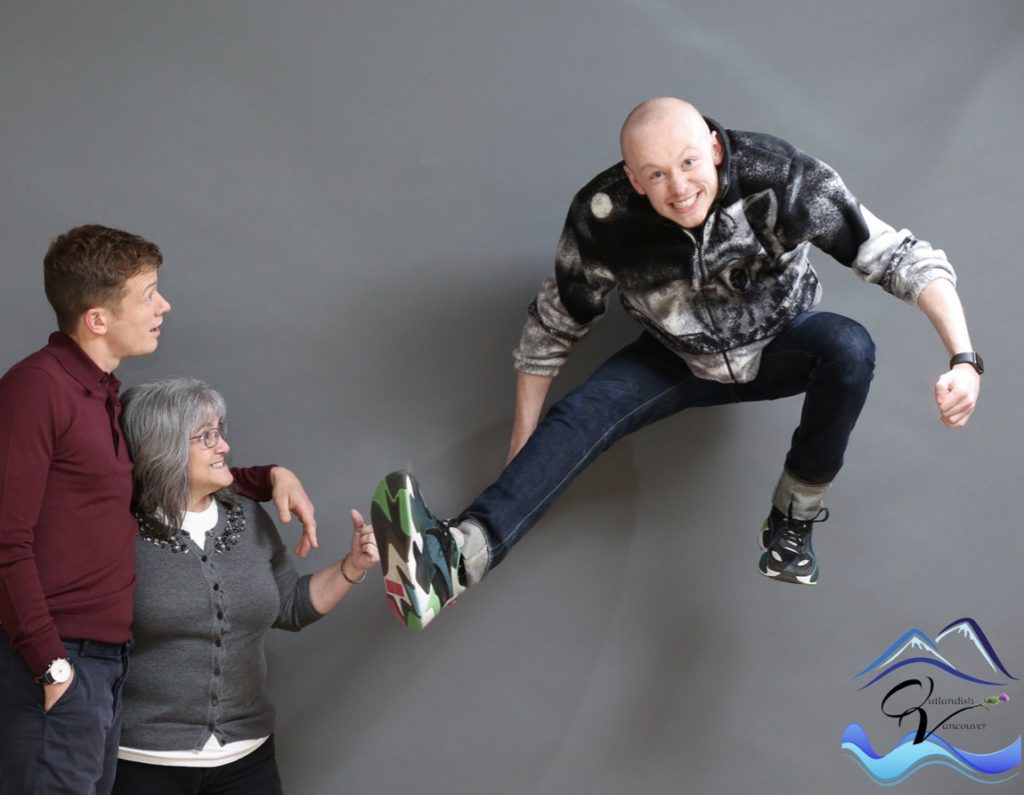 Back to the panel….
Q: Did anything unusual happen on set?
Braeden: During a take of ep 413, he heard a thump and the wee babe had rolled out of her wrapping! 😱 Terrified, he grabbed her up, but, no worries, she was smiling.
Q: What was done to get you into character?
Braeden: He is half German and half native so his pale skin and eyelids had to be darkened.
Trevor: Covered with several layers of paint and five different paint styles to achieve the final effect in Outlander episode 403, The False Bride and episode 413, Man of Worth!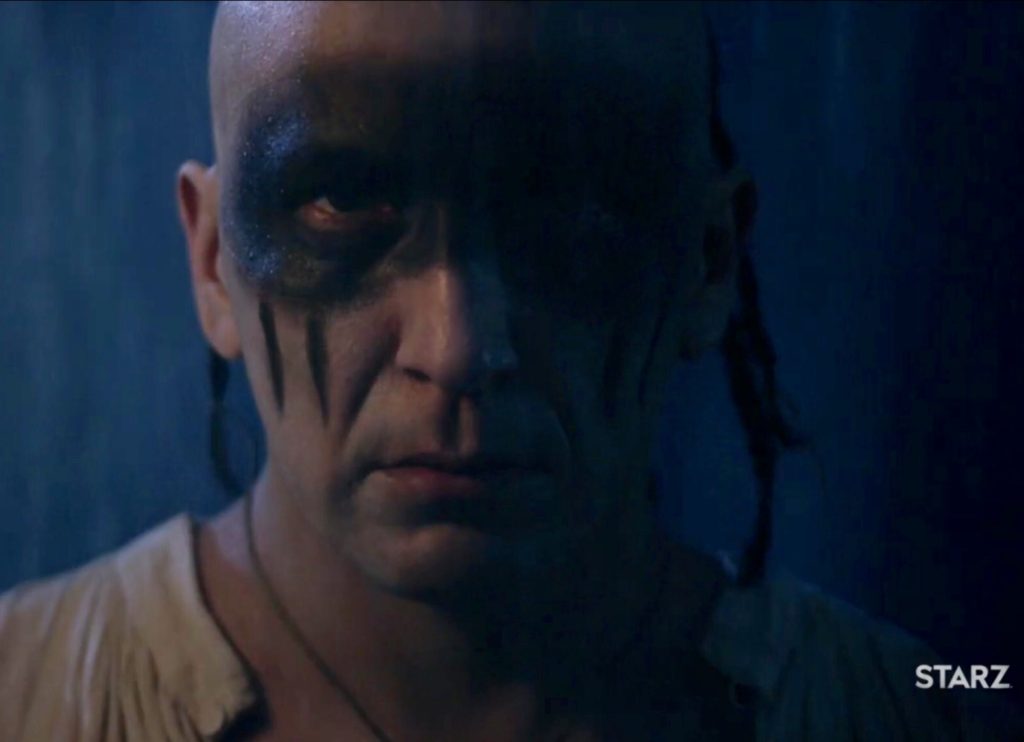 Q: What are your latest projects?
Trevor:  Just wrapped a German film, set in the Yukon.
Braeden: Filming a futuristic sci-fi film with Sera-Lys McArthur (Johiehon).
Carmen: Finished a film about an indigenous mother seeking her missing daughter, touring film festivals, and various other projects.
Q: I asked Carmen to comment on the canoe scene from ep. 413, Man of Worth.
Carmen: The experience was magical! Birchbark canoes (fiberglass core) were made in Canada and shipped to Scotland. As they glided on the water, she and Cait looked at each other, deeply moved by the wonderful experience.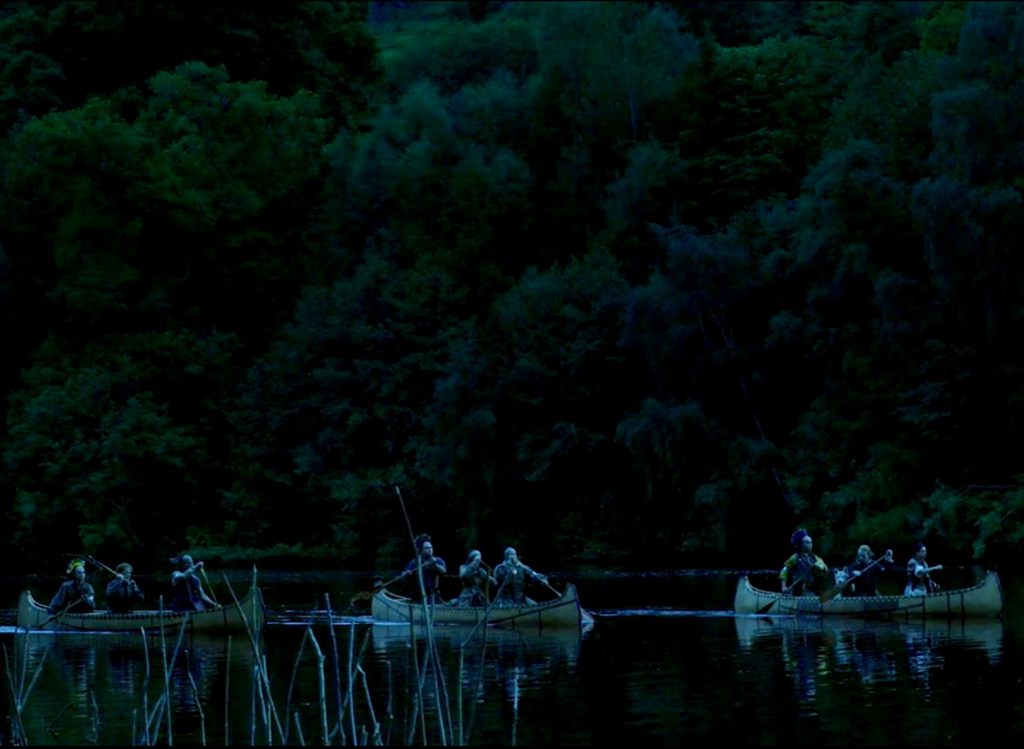 Q: I asked Trevor how the realistic "head" was created (ep 413)?
Trevor: A mold was made of his head before leaving Canada, the head was cast in Scotland!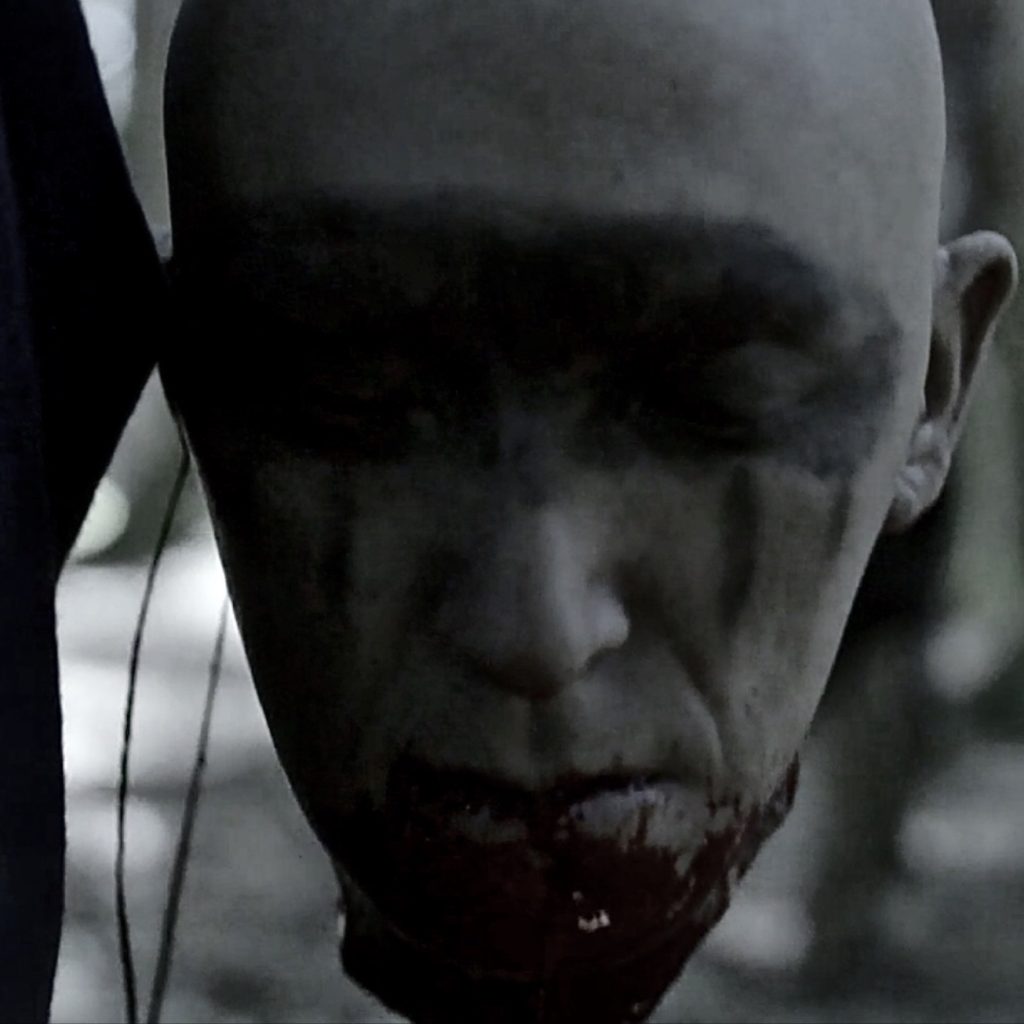 Q: What did you like best about Scotland?
Braeden: Accent!
Trevor: Beauty, Edinburgh castles, Glasgow, oldest subways, art, history.
Q: If you could touch the stones, would you go back in time or into future?
Trevor: I would go into the future because you cannot change the past.
Carmen: I wouldn't touch the stones!
Braeden: I would go back for Woodstock!
Carmen: Oh, I would go back for Woodstock! 😜
This delightful event came to a close and I scurried back to the Sheraton for author autographs. An overflow room and crowd control was there for fans waiting for Diana's signature! This is part of the line. Hi fans!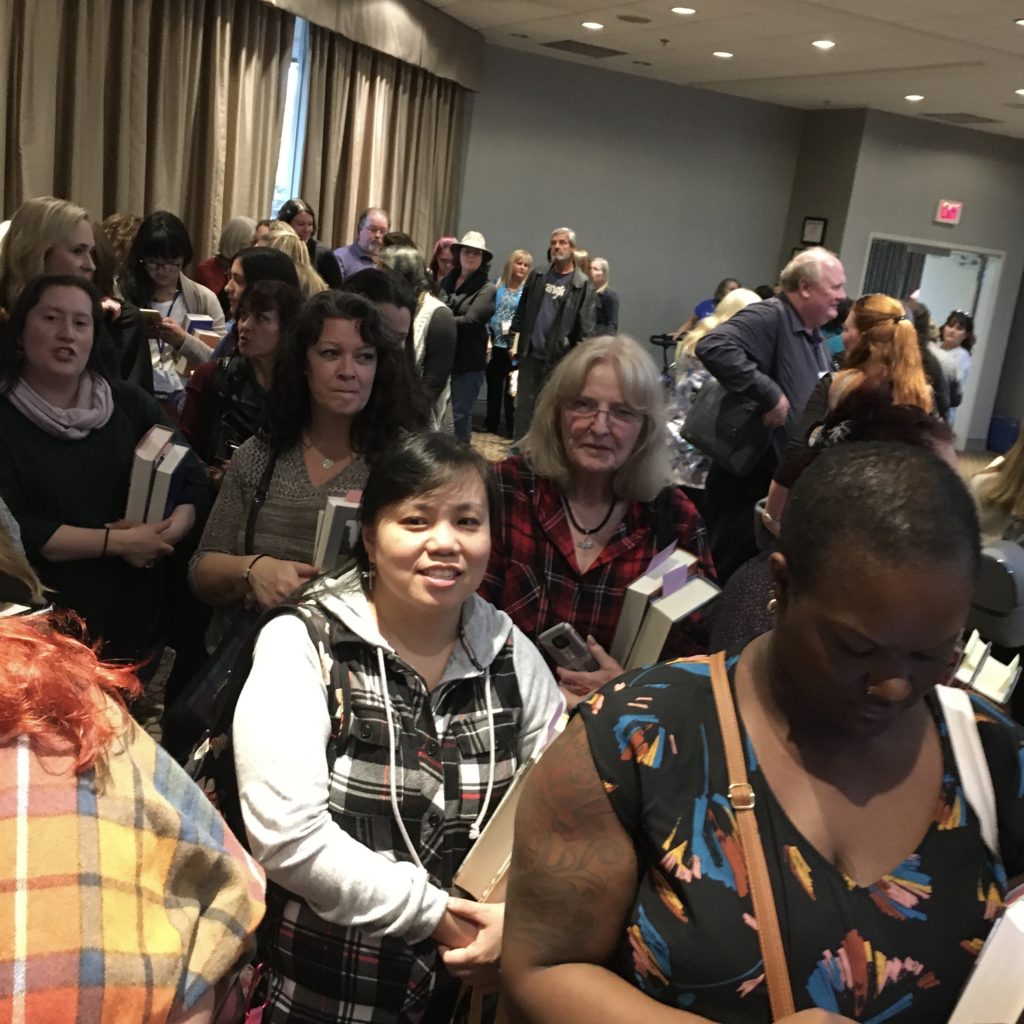 My last book to be signed until I get my hands on Go Tell the Bees That I am Gone! 😍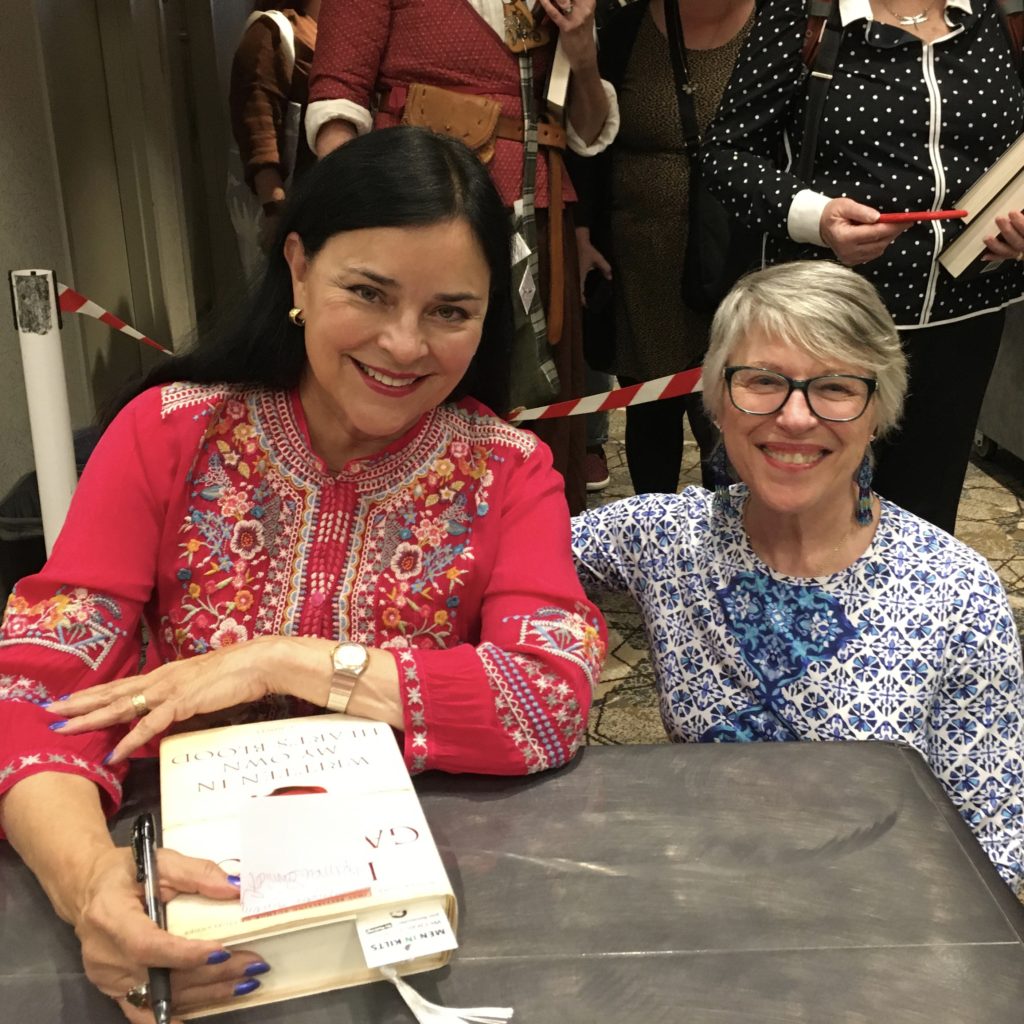 This guy belongs to Men In Kilts, a bonafide cleaning service, but today, it was charged with crowd control. Possibly, this cutie added to the chaos! 😉😉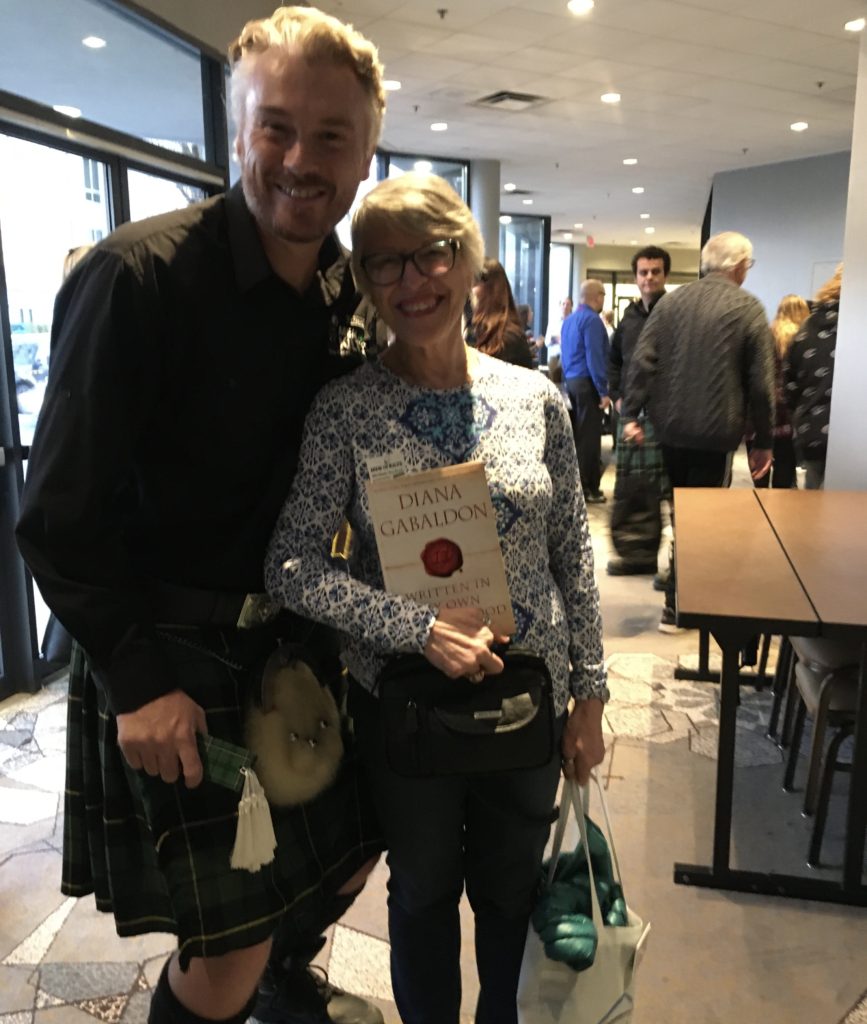 Then time for a relaxing drink with my dear friend, Courtney Williams of Outlander Behind the Scenes. We were being so silly.  We have no idea why this weird grid showed up on our only photo!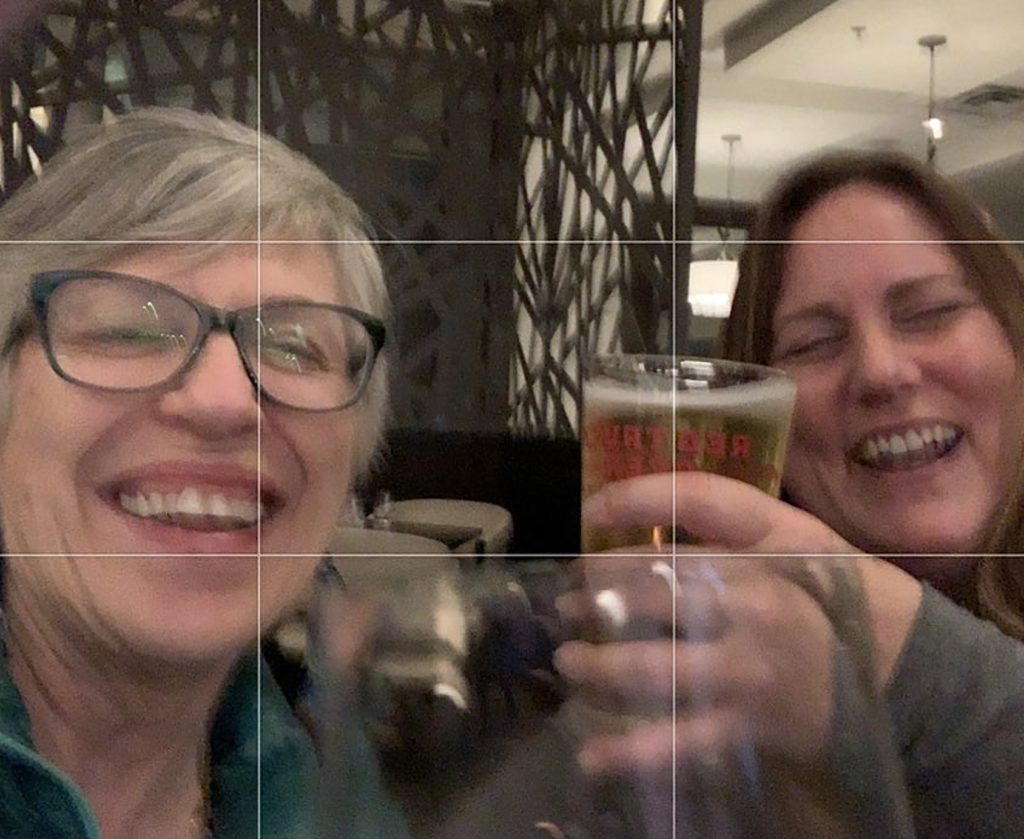 Back to the hotel and fell into bed. Tomorrow, Day 3!
The deeply grateful,
Outlander Anatomist
Follow me on:
Photo Credits: Outlander Anatomy, Outlandish Vancouver, DWPhotography, meaww.com, Starz,