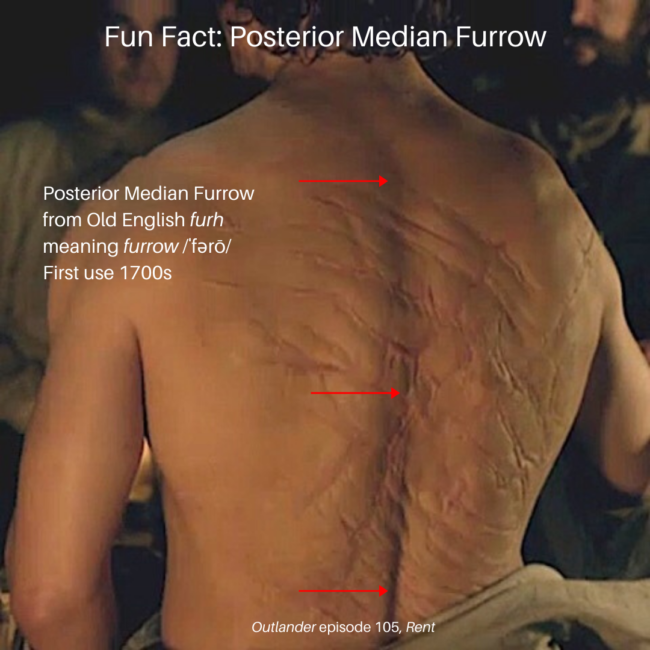 Anatomy Def: Midline vertical depression in the surface of the back (red arrows).
Outlander Def:  Deep, lovely groove of Jamie's back!  
Get in the groove and Learn about Jamie's back furrow by reading Anatomy Lesson #10, Jamie's Back!
The posterior median furrow (PMF) literally means "back middle groove." This vertical depression is most visible in thoracic and lumbar regions of the back. It tends to be shallow in the cervical region, diminishes over the sacrum and is continuous with the gluteal cleft (Aye, the sweet cheeks! <G>).
PMF is most visible in those with robust para-spinal (erector spinae) muscles. These muscles flank the vertebral column; the more developed the muscles, the deeper the PMF.
PMF is useful during physical exam because the vertebral spines can be palpated and counted in the groove. Specific vertebral spines mark levels for anesthesia delivery, location of abdominal organs, and vascular anatomy. For example, C3 marks the level of the hyoid bone (wink, wink to book readers).
More Fun Facts: English is replete with idioms about the back. These are  a few of the many:
Back away
Back me up
Back and forth
Back to square one
Back in the day
Back to the drawing board
Back down from
Back the wrong horse
Back to back
Back in circulation
Read about Jamie's posterior median furrow in Outlander book. Yes, Herself describes it! 👏🏻👏🏻👏🏻
Compassionate Claire notes the groove as she describes Jamie's badly damaged back: 
He sat patiently, not moving as I circled behind him and inspected his back…I was appalled…The scars covered his entire back from shoulders to waist. While many had faded to little more than thin white lines, the worst formed thick silver wedges, cutting across the smooth muscles. I thought with some regret that it must have been quite a beautiful back at one time. His skin was fair and fresh, and the lines of bone and muscle were still solid and graceful, the shoulders flat and square-set and the backbone a smooth, straight groove cut deep between the rounded columns of muscle that rose on either side of it…I tried not to imagine the muscular arms raised…ropes cutting into wrists, the coppery head pressed hard against the post in agony…Involuntarily, I reached out, as though I might heal him with a touch and erase the marks with my fingers. He sighed deeply, but didn't move as I traced the deep scars, one by one, as though to show him the extent of the damage he couldn't see.
Och! See Jamie's PMF in Outlander, episode 105, Rent, after Uncle Dougal rends Jamie's sark to expose BJR's handiwork! 😱 Back off, Dougal!
The deeply grateful,
Outlander Anatomist
Follow me on:
Photo Credit: Sony/Starz