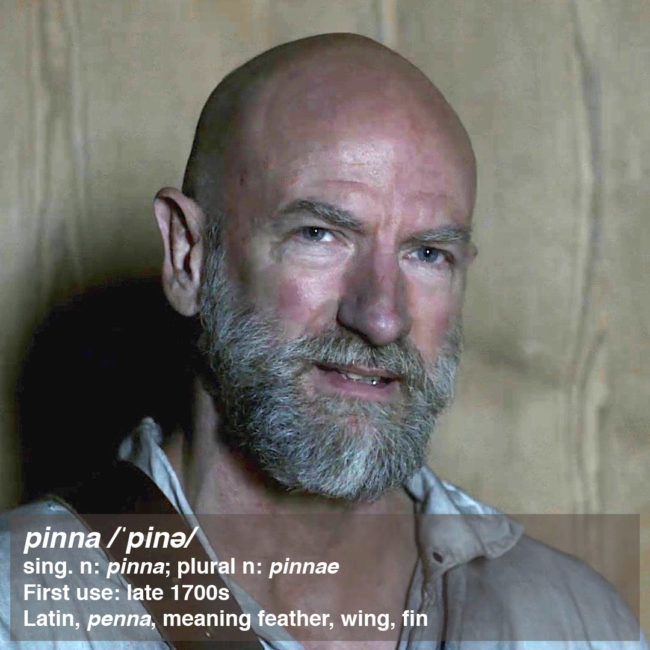 Anatomy def: Residing outside the head, the pinna is the visible part of an ear; a.k.a. the auricle, but, not to be confounded with the oracle 😁. Pinna is more specific because the term auricle is also used for other body parts (e.g. heart atria).
Outlander def: Dougal's splendid ear flaps are so sensitive, they pick up treacherous treason in the air! Love his unique ear flanges (Diana's oft used term). Same ear part as was nailed to the pillory at Cranesmuir!
Learn about the pinna in Anatomy Lesson #24, Here, Hear – The Ear.
Read about Dougal's pinna – they pick up sound waves vibrating with plots of vile murder and treason (Outlander book) – yikes!
"Dougal," he said. "It isna what ye think, man. It's—" "No?" … "Not what I think?" he said, still speaking softly. "I hear the woman urging ye to foul murder—to the murder of your Prince! Not only vile murder, but treason as well! And ye tell me I havena heard it?" He shook his head, the tangled russet curls lank and greasy on his shoulders. … "I dinna blame ye, lad," he said. … "It isna your fault, Jamie. She's bewitched ye—anyone can see that." … That's the spell that they lay on ye, lad—she and the other witch. … "Stand aside, laddie. I'll free ye of the sassenach whore." … "I shall cut your throat," he said to me softly. … Step aside, lad. I wouldna harm ye, but by God, if ye shield that woman, I shall kill you, too, foster son or no."
See Dougal's pinnae in Starz ep 213, Dragonfly in Amber; his ear flaps are atingle with pernicious plotting against his precious prince!