8
NOV 2016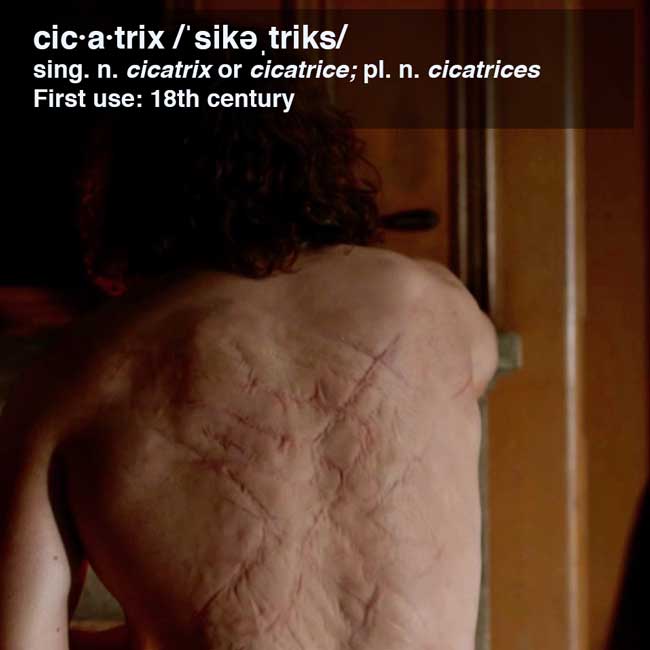 Anatomy def: Connective tissue remnants marking a healed sore or wound.
Outlander def: Horrific marks wielded by a lash with such fury as to permanently mar the beautiful back of a Scottish warrior!
Learn about cicatrices and how they form in Anatomy Lesson #37, ""Outlander Owies, Part 3 – Mars and Scars!"
Read about scars throughout Diana's books. This great example from Dragonfly in Amber book showcases BJR's handiwork!
The soap bubbles ran down across the wet, gleaming curves of his shoulders, and my hands followed them, spreading the slickness so that my fingers seemed to float on the surface of his skin. He was big, I thought. Near him so much, I tended to forget his size, until I saw him suddenly from a distance, towering among smaller men, and I would be struck anew by his grace and the beauty of his body. But he sat now with his knees nearly underneath his chin, and his shoulders filled the tub from one side to the other. He leaned forward slightly to assist my ministrations, exposing the hideous scars on his back. The thick red welts of Jack Randall's Christmas gift lay heavily over the thin white lines of the earlier floggings.
See these sad cicatrices as Jamie sheds his shirt for cousin Jared, in Starz, episode 201, Through A Glass Darkly. Laying eyes on that battered back, Jared now regrets doubting Jamie's loyalty to Scotland!
A deeply grateful,
Outlander Anatomist