3
AUG 2017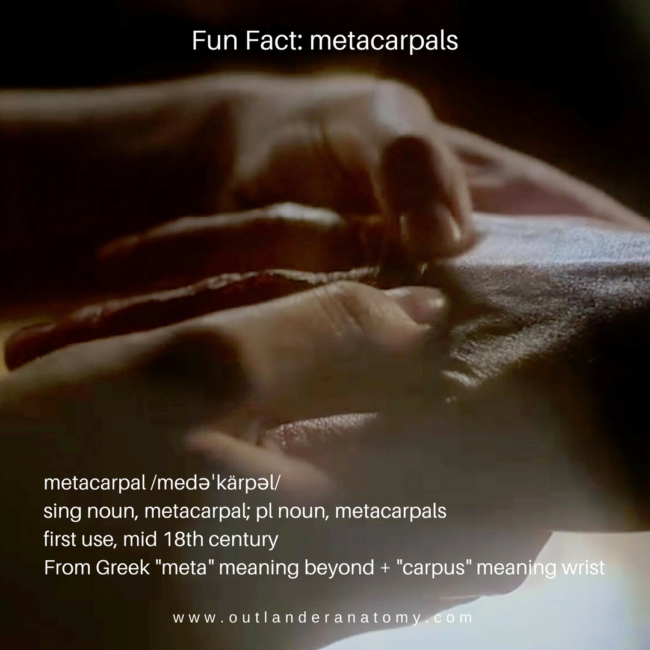 Anatomy def: Metacarpals are one of 5 bones of the hand, situated between wrist and digits. Comparable bones of the foot are metatarsals.
Outlander def: Hand bones on which BJ plays snap, crackle, and pop! Or, was it knick knack paddy-whack, break the puir lad's bones? Gah!
Learn the five metacarpals in Anatomy Lesson #22, Jamie's Hand – Symbol of Sacrifice. Metacarpals are numbered 1-5 beginning with the thumb side. Together, five metacarpals form the bony skeleton in the palm of hand!
Read about metacarpals in Outlander book. But, of course, they are there! …Claire muses about metacarpals and Crainesmuir village while riding her pony behind Dougal!
In fact, I had amused myself on the ride to the smithy by imagining an aerial view of the village as a representation of a skeletal forearm and hand; the High Street was the radius, along which lay the shops and businesses and the residences of the more well-to-do. St. Margaret's Lane was the ulna, a narrower street running parallel with the High, tenanted by smithy, tannery, and the less genteel artisans and businesses. The village square (which, like all village squares I had ever seen, was not square at all, but roughly oblong) formed the carpals and metacarpals of the hand, while the several lanes of cottages made up the phalangeal joints of the fingers.

See Claire massage the healing metacarpals of Jamie's left hand during opening credits of S.2!
A deeply grateful,
Outlander Anatomist