9
AUG 2017
In Shakespeare's play, Juliet argues on behalf of her Romeo:
What's in a name? that which we call a rose
By any other name would smell as sweet;
Really? What do you think? If Claire were an Alice, Beatrix, or Portia, would she prove as compelling a heroine? And, how did Diana choose her name? I asked Diana during our 2017 SDCC convo. Not surprisingly, her answer proved both informative and entertaining!
Speaking of names, Diana is not stingy with them. In her The Outlandish Companion (Vol. 2), she lists the names and descriptions of all characters in her big novels plus all the Lord John books. They begin on p. 249 and continue through p. 367! She names doormen, cooks, laundresses, tavern owners, the butcher, the baker and candlestick maker. Seriously, in my view, giving names to even minor characters adds flesh to the skeleton of a story, causing greater emotional investment by the reader.
Now, I cannot write about Claire until we've dealt with Jamie! I am betting not all fans are aware of the origins of Jamie's name, so let's pause for a brief review of this interesting and diverting tale!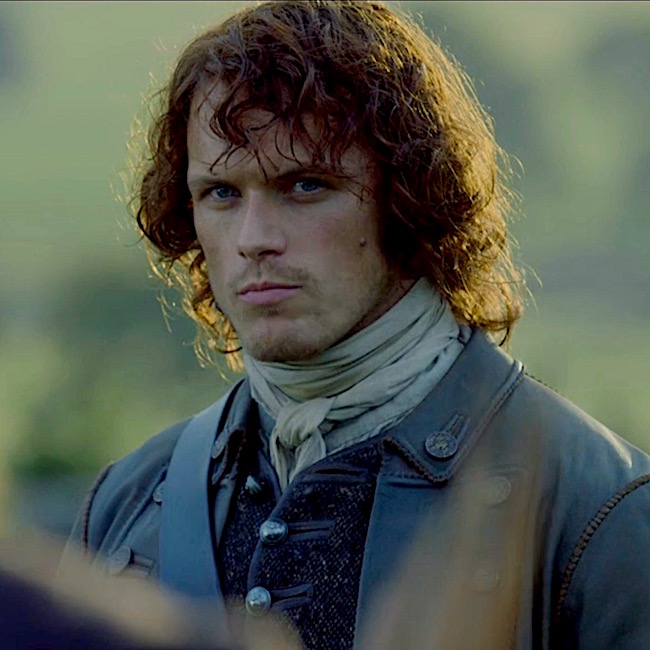 Starz, episode 209, Je Suis Prest
Waaaaay back when Outlander book was a mere twinkle in Diana's eye, she was mulling over a setting for her intended historical novel. Now, Diana rarely watches TV, but on this day, she was doing her nails, so a wee bit of boob tube time was just the ticket (those splendid nails, again <G>)!
She just happened to tune into a PBS rerun of Doctor Who (who else). This rather old episode featured a "companion" of the Doctor's – a young Scottish fellow named Jamie MacCrimmon, whom the good Doctor picked up in 1745, same year as the Jacobite rising!
In her The Outlandish Companion (Vol. 1), Diana shares her TV epiphany:
This character wore a kilt, which I thought rather fetching, and demonstrated – in this particular episode – a form of pigheaded male gallantry that I've always found endearing; the strong urge on the part of a man to protect a woman even though he may realize that she's plainly capable of looking after herself.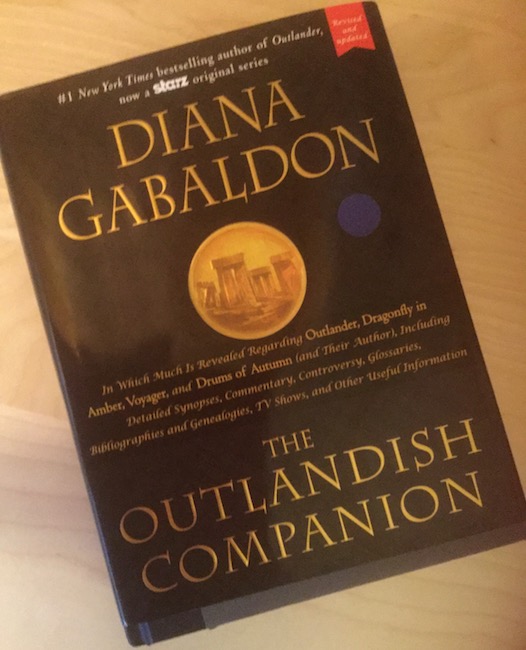 Momentarily, harken back to Starz episode 115, Wentworth Prison (2015). Claire pays a visit to prison warden, Sir Fletcher Gordon, claiming she is Jamie's distant relation and requesting a face-to-face with the prisoner; her duty as a good Christian woman! Fletcher denies her request (too dangerous), but relinquishes a small wooden box sheltering all of Jamie's worldly goods, and they are darned few. Heart wrenching! 😭
Ever insightful, Claire offers the following piercing description of the warden (Outlander book). Leave it to Claire to compare the fellow to food (snort!):
Sir Fletcher Gordon was a short and portly man, whose striped silk waistcoat fitted him like a second skin. Slope-shouldered and paunch-bellied, he looked rather like a large ham….
It just so happens, actor Frazer Hines who plays Sir Fletcher, is the same lad who played Jamie MacCrimmon in the original Doctor Who episode. Great casting coup!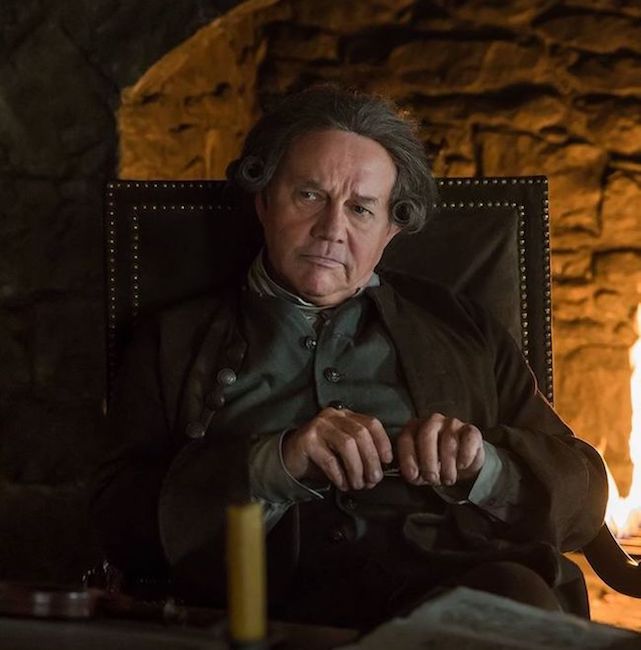 Starz, episode 115, Wentworth Prison
Diana continues her Outlandish musings about creating Jamie and Outlander book:
I was sitting in church the next day, thinking idly about this particular show (no, oddly enough, I don't remember what the sermon was about that day), when I said suddenly to myself, Well, heck. You want to write a book, you need a historical period, and it doesn't matter where or when. The important thing is just to start, somewhere. Okay. Fine. Scotland, eighteenth century.
After Mass, she pulled a scrap of paper from under the front seat of her car, and began writing. And, voila, Jamie stopped being a twinkle in her eye and stepped onto the pages of time. Lucky us!
Well, it wasn't quite that simple. Consider reading Diana's full account in The Outlandish Companion, Vol. 1, for further fascinating insights into the origins of Jamie, Claire, and her first and very splendid, novel…well, actually, her first four big novels!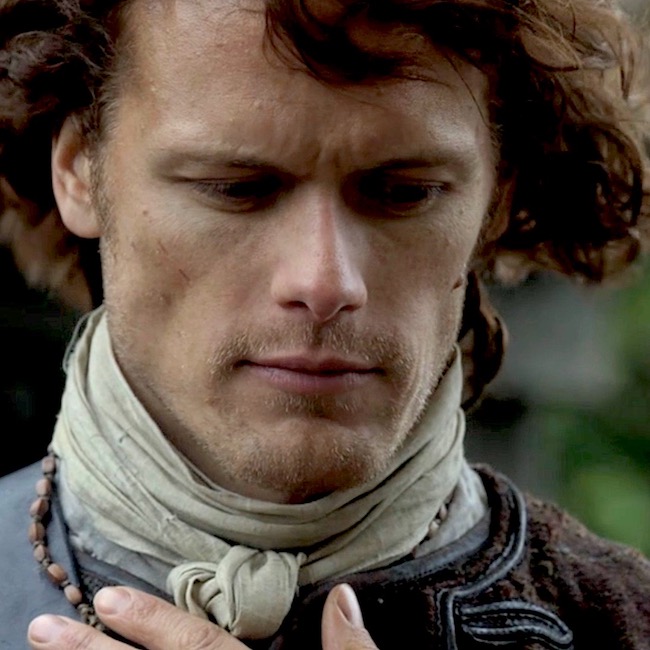 Starz, episode 208, The Fox's Lair 
Back at SDCC, 2017…. During our drink time, I commented to Diana that many fans know the origin of Jamie's name but how did she choose the name, Claire, for her heroic heroine? I was certain she had faced this query many times, but, turns out she has rarely been asked this question. So, here is her answer!
Years ago, Diana read The House of the Spirits,  a debut novel (1982) by Isabel Allende. This story details lives of the Trueba family, spanning four generations and tracing the social and political upheavals of Chile during the post-colonial era. The youngest daughter, Clara de Valle, has paranormal powers: she is clairvoyant and telekinetic and rarely attends to domestic duties. Ah, hints of a prototype! Wink, wink!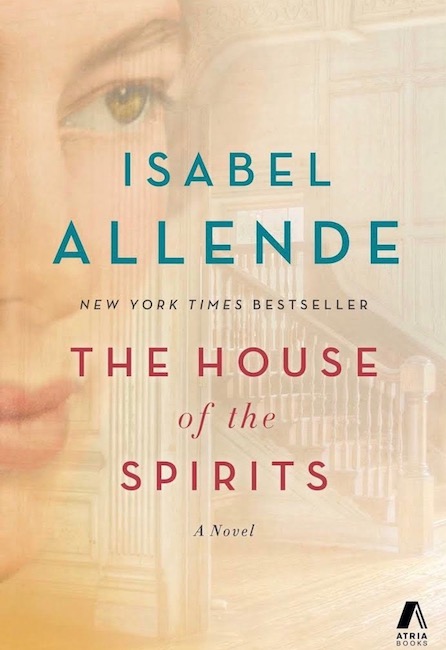 So, considering a name for her WWII combat nurse, she reflected on Allende's heroine, Clara. Now, one translation of the name, Clara, is the equivalent of English for "clear." And, the Latin word, clarus, the English equivalent of Claire, also means "bright" or "clear." Such adjectives were a perfect fit for the woman who is front and center in all Outlander books, so Diana chose Clear Claire!
Let us be clear about this! From a very early age, Claire is very clear about who she is and what she wants. Hearken the following interaction between Claire, age 5, and her Uncle Lambert!
My father's only brother, and my only living relative at the time, he had been landed with me, aged five, when my parents were killed in a car crash. Poised for a trip to the Middle East at the time, he had paused in his preparations long enough to make the funeral arrangements, dispose of my parents' estates, and enroll me in a proper girls' boarding school. Which I had flatly refused to attend. Faced with the necessity of prying my chubby fingers off the car's door handle and dragging me by the heels up the steps of the school, Uncle Lamb, who hated personal conflict of any kind, had sighed in exasperation, then finally shrugged and tossed his better judgment out the window along with my newly purchased round straw boater. …He had glanced down at me, fixing me with a fierce glare….

I had nodded, content. And had gone with him to the Middle East, to South America, to dozens of study sites throughout the world. Had learned to read and write from the drafts of journal articles, to dig latrines and boil water, and to do a number of other things not suitable for a young lady of gentle birth—
Pssst….the small domestic service of lighting a smoke for her uncle is conjured up for the TV version. Claire doesn't do this in the books.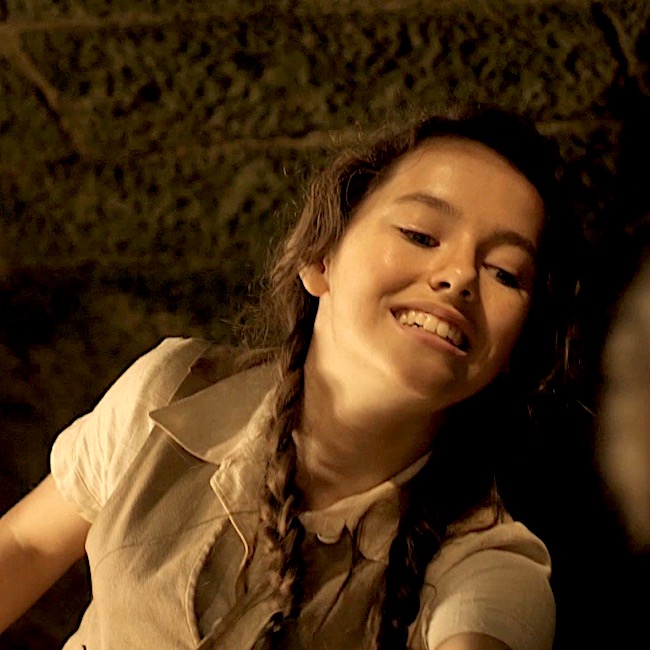 Another great example of Claire's clarity: at the liar's spring, she gives it to Dougal point blank. She bloody well knows who she is (Outlander book)!
Are ye a spy for the English or the French?" he asked, with another bewildering change of subject. At least he was being direct, for a change. "Certainly not," I said crossly. "I'm plain Claire Beauchamp, and nothing more.
Starz episode 106, The Garrison Commander
Is Claire clairvoyant? With that name, she could be. After all, she is known as a white lady and she does posses some very interesting powers that grow over time. She also mixes it up with a real seer while visiting Jamie's crass grandsire (Dragonfly in Amber book):
"You'll be my lady Broch Tuarach?" she said, though there was no more than a hint of question in her soft Highland voice. "I am. And you're … Maisri?" A small smile lit her face. ..A seer, hm? I thought she looked the part.

"Aye, I have the Sight," she said, the smile widening a bit on her lopsided mouth. "Do mind-reading, too, do you?" I asked. She laughed, the sound vanishing on the wind that moaned through the ruined walls. "No, lady. But I do read faces, and …" "And mine's an open book. I know," I said, resigned. … "They do say as you're a white lady,"…
Not to further belabor the point, but we can count on Claire to live up to her name.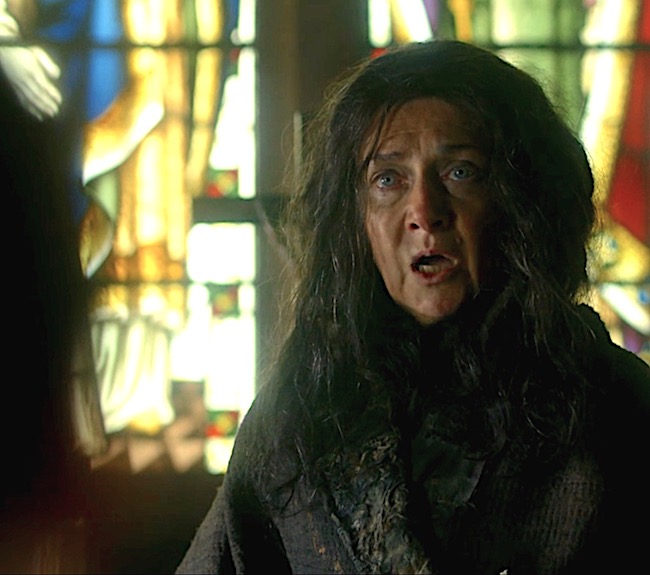 Starz, episode 208, The Fox's Lair
That's it! That's how Claire got her name. I like it – both name and story!
So be very clear, "clear" means understandable, comprehensible, intelligible, plain, uncomplicated, explicit, lucid, coherent, simple, straightforward, unambiguous. I wouldn't dub Claire as plain or uncomplicated and sometimes she is a bit ambiguous, but the rest of the synonyms fit our heroine to a T!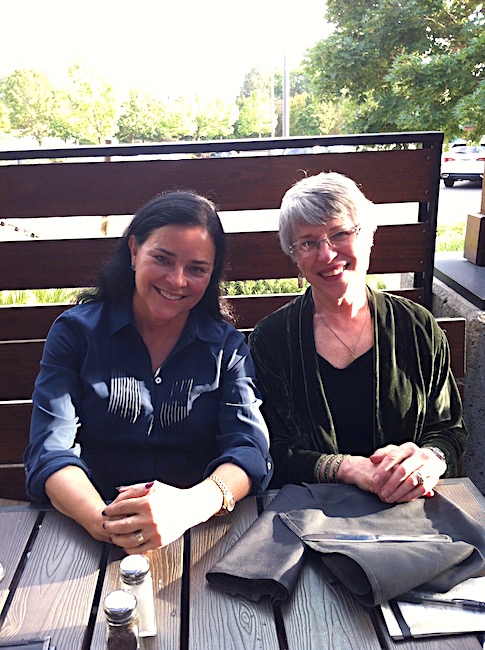 Diana and OA in 2015
Therefore, would a rose by any other name smell just as sweet? Probably.  But, I for one, cannot imagine any other name for Jamie's beloved soulmate. Thank you, Diana!
A deeply grateful,
Outlander Anatomist